Raymond Mill
Raymond mill, also known as Raymond, Raymond machine, instead of a ball mill processing ore powder milling mill, Raymond mill grinding roller centrifugal force in tightly pressed on grinding ring Therefore when roller, grinding ring wear to a certain thickness does not affect the yield and the fineness of the finished product. Raymond mill roller, grinding ring replacement cycle is long, thus excluding the replacement of wearing parts centrifugal mill short cycle ills.
Raymond Mill is suitable for barite, calcite, potash feldspar, talc, marble, limestone, ceramics, glass, etc. Mohs hardness less than 7 and humidity below 6% of non-explosive mining, chemicals , milling and processing, building materials, metallurgy and other industries more than 280 kinds of materials, product size in the range of 80-325 mesh of arbitrary regulation.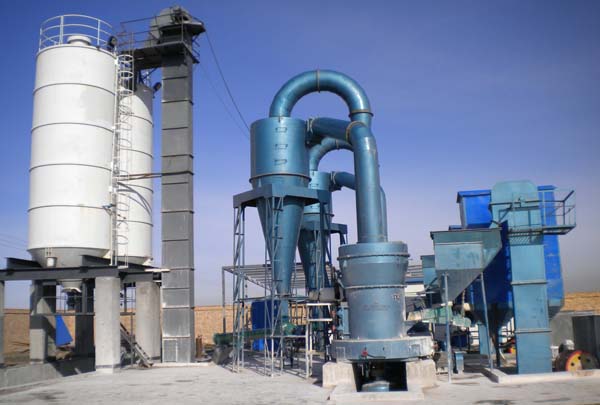 Consist of Raymond Mill
Raymond mill machine mainly by the host machine, blower, analysis, product cyclone separator, plumbing, motor and other components, in which the host is composed of a machine frame, air inlet volute, blade, grinding, grinding ring, cover and motor, auxiliary equipment jaw crusher, bucket elevator, electromagnetic vibration feeder, electric control cabinet so, the user can choose flexibly according to the site conditions.
Working Principle of Raymond Mill
The whole structure Raymond mill is from the host, analysis machine, plumbing fixtures, fans, and according to user needs can be equipped with a jaw crusher, bucket elevator, electromagnetic feeder, electric motors and other components. Materials needed to crush size, the material sent by the hoist storage hopper, and then by feeder will feed into a uniform continuous indoor Raymond mill powder machine host, the centrifugal force due to rotation, roller outwards swing, pressed on the grinding ring, shovel blade materials sent between roller and grinding ring, due to the rolling mill rolls to achieve the purpose of crushing. After grinding the powder material is brought into the analysis with circulating air blower machine sorting, fine through coarse material regrinding, qualified powder into the air cyclone powder collector finished by powder discharge pipe, is finished.
When grinding the material because there is some water, grinding in the grinding room heat, moisture evaporation, and the whole of each pipe interface is not tight, the outside air is sucked into the circulation increased pressure to ensure the mill work in the vacuum state , the increase in gas flow through the duct into the dust, after being purified into the atmosphere.
Application of Raymond Mill
Raymond mill is widely used in barite, calcite, potash feldspar, talc, marble, limestone, dolomite, fluorite, lime, activated clay, activated carbon, bentonite, kaolin, cement, phosphate rock, gypsum, glass , insulation materials Mohs hardness of not more than seven, high fine powder processing and humidity below 6% of non-flammable mineral, chemical, construction and other industries more than 300 kinds of materials, R-type Raymond mill finished 80-325 mesh particle size within the range of arbitrary regulation, part of the material up to 600 mesh.
Features
1, the vertical structure of Raymond mill, covers an area of relatively small, the system is strong, whether it is from the rough processing of raw materials or to transport to the milling and the final packaging, can be as an independent production system.
2, Raymond mill and other milling equipment in contrast, its high rate of pass through screening, screening rates as high as 99%, other milling equipment is generally not up to the.
3, Raymond mill main transmission device adopts closed gearbox and belt wheel, transmission smooth, reliable operation.
4 important parts, Raymond mill adopts high quality casting and molding manufacture, fine craft, rigorous process, to ensure the durability of the whole set of equipment
5, the electrical system with centralized control, mill shop basically no work can be realized, and repair. We are going to talk about the maintenance method of Raymond Mill
Request for Quotation
You can get the price list and a MCC representative will contact you within one business day.